Prévost H3-45 VIP - Motorcoach


With an overall height of 11' 2'', the Prevost H3-45 VIP stands as the tallest and roomiest bus shell for 'Ultimate' Class conversion.
With the industry highest cabin floor, both driver and companions enjoy unmatched panoramic viewing and a serenely quiet travel environment.

Can accommodate up to 57 passengers.

Fully A/C Air Conditioning.

Onboard DVD Entertainment system.

Tour Guide PA onboard System.
Lot's of overhead room.

Spacious.

Comfortable.

Tinted Windows.

Panoramic View.

Spacious underneath baggage compartments.
Can-Am Express - Mercedes Benz Luxury Minibus Sprinter Classes - Coach and Limo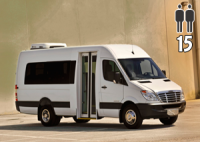 Mercedes Benz Sprinter Minibus, forward-facing seating for 15 passengers, plus 1 driver and rear luggage area with fixed dividing wall. Leather seats for a comfortable ride to your destination.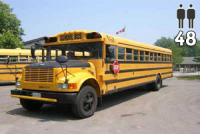 Can carry up to 48 passengers , no entertainment system, no PA, perfect for short trips on budget.

Can-Am Express Inc
6 Sunnycrest Rd Toronto.Ontario M2R 2T4 Tel:(416)561-2946 Fax:(416)663-4313
Contact Us